VINTAGE MILITARY TRUCKS


M561 Gama Goat Page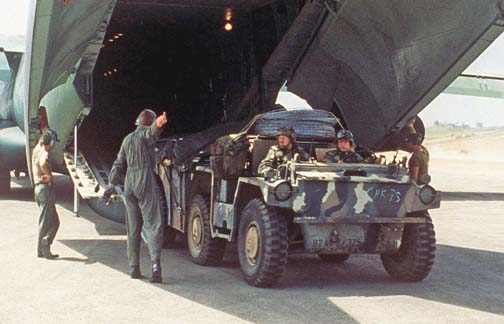 M561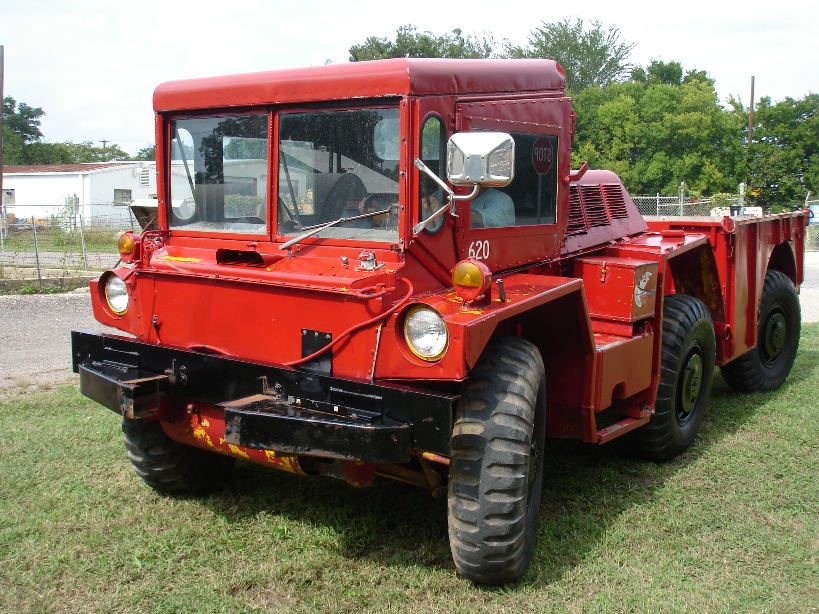 M561 Gama Goat Sold !
M561 Gama Goat Lubrication Order LO 9-2320-242-12
M561 Gama Goat Camo Paint Chart
M561 Operation and Preventative Maintenance Pamphlet
The Gama Goat was a six-wheel-drive semi-amphibious off-road vehicle originally developed for use by the US Military for the war in Vietnam. It was famous for an articulated body, which allowed it to travel over exceptionally rough terrain and for a unique four wheel steering arrangement with the front and rear wheels turning in opposite directions.
The vehicle's nickname came from two sources; "Gama" from the name of the inventor of its powered articulated joint, Roger Gamount, and "Goat" for its mountain goat-like off-road ability. Its military designation was M561, 6x6 tactical 1.5-ton truck. There was also an ambulance version known as the M792
The Gama Goat was 226.6 inch (5.76 m) long; had a curb weight of 7,300 pounds (3,300 kg); had a payload capacity of 2,900 pounds (1,300 kg); and was powered by a Detroit Diesel #3-53 three cylinder, two-stroke engine that produced 103 hp (77 kW) at 2,800 rpm with a 159.3 in³ (2,610 cc) displacement. It could travel at 55 mph (90 km/h) on paved surfaces and traverse almost any terrain. It was designed to be air-transportable and droppable by parachute.
While technically listed as amphibious, the swimming capability was limited to smooth water crossings of ponds, canals and streams due to the low freeboard and the lack of a propeller. Propulsion in the water was supplied by the six spinning wheels, and bilge pumps were standard equipment. Some models had extra equipment installed which made them non-swimmable, such as heavy-duty winches or radar gear.
Specifications
Dimensions:
Length 226.6 in (5.76 m)
Width 83.80 in (2.13 m)
Height 90.80 in (2.31 m)
Reducible height 65 in (1.65 m)
Tread 72 in (1.83 m)
Ground clearance 15 in (380 mm)
Pintle height 22 in (560 mm)
Articulation:
Roll at center axle ± 15 degrees
Roll at rear axle ± 30 degrees
Pitch at rear axle ± 40 degrees
Wall climb (vertical) 18 in (460 mm)
Angle of approach 62 degrees
Angle of departure 45 degrees
Hump angle 140 degrees
Suspension:
Front and Rear Independent coil and springs at each wheel.
Center Single leaf spring and swing axle.
Steering System:
Type Mechanical front and rear simultaneous operated.
Steering ratio 24:1
Turning radius 29 ft (8.8 m)
Variants:
Communications
Mortar
Radar (mortar / artillery system)
Personnel Carrier
Radar (FAAR System)
Ambulance (M792)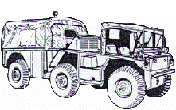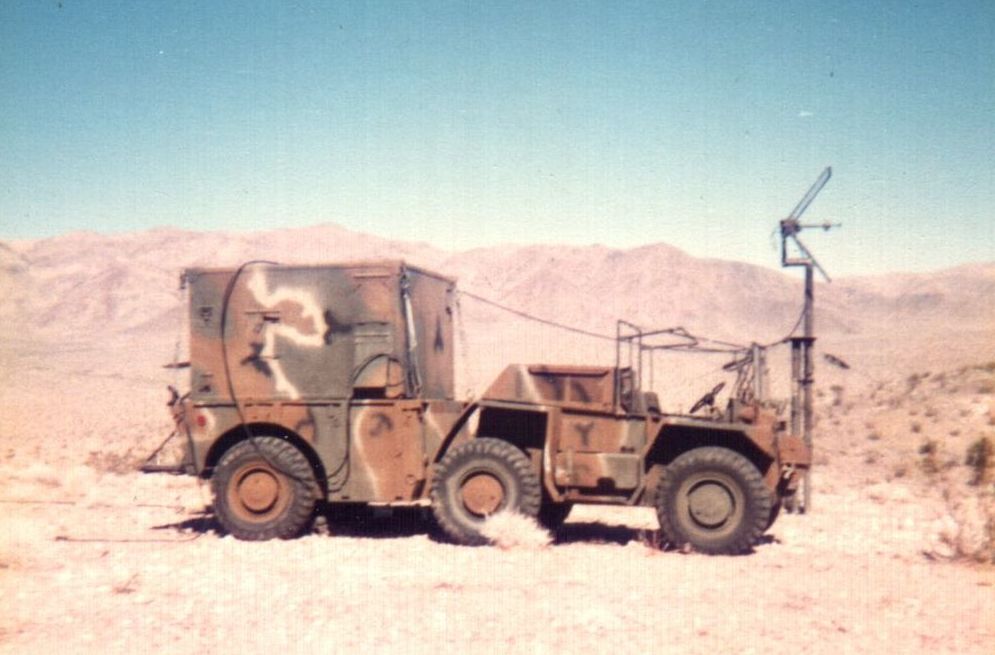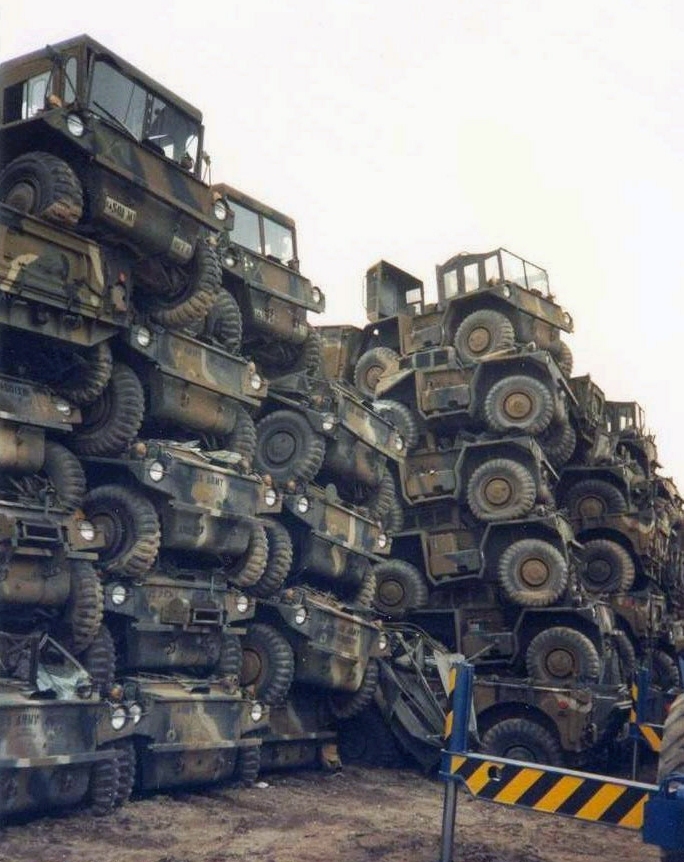 Gama Goats in Germany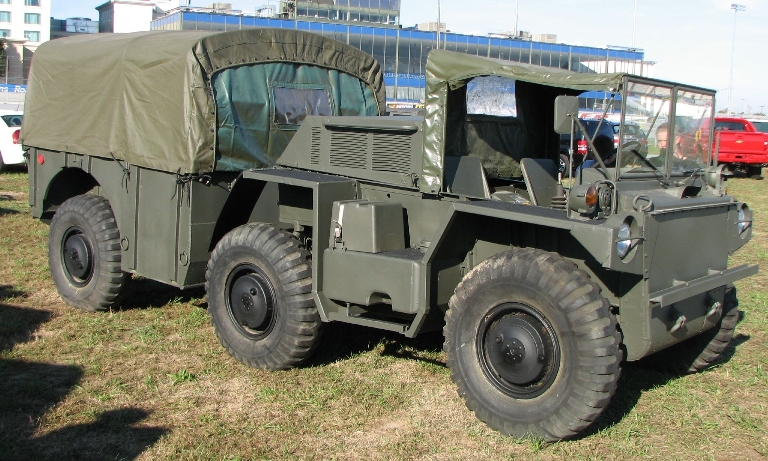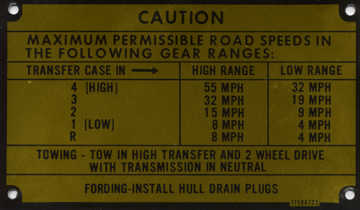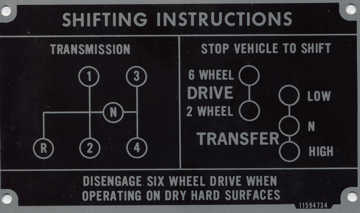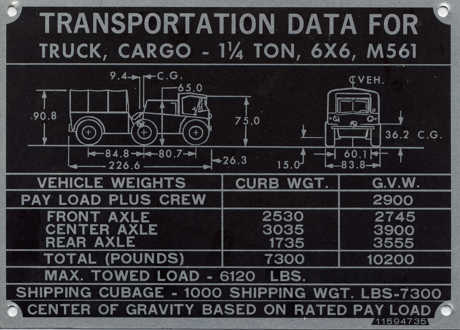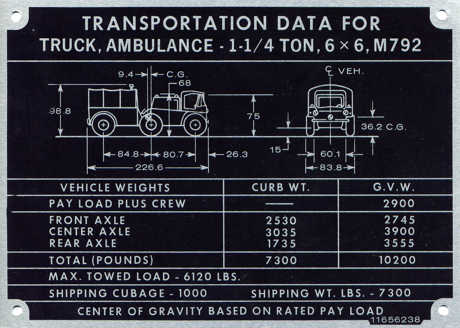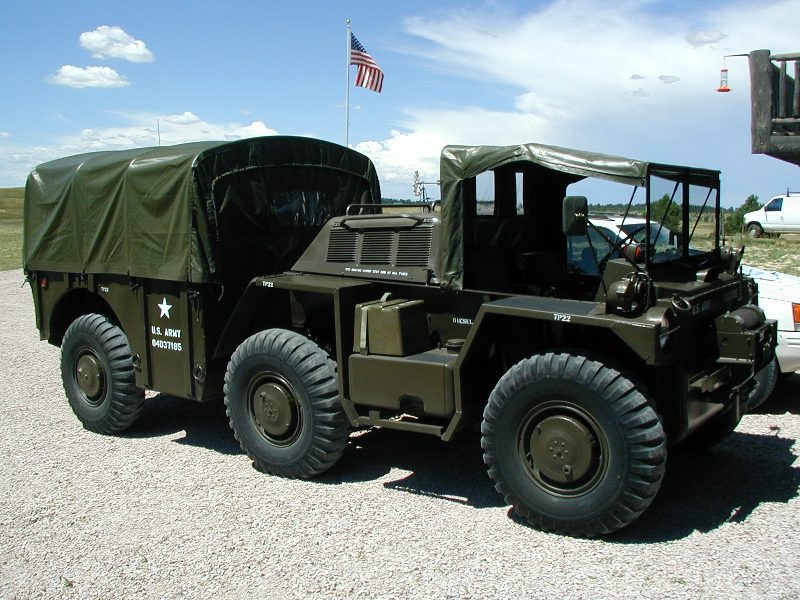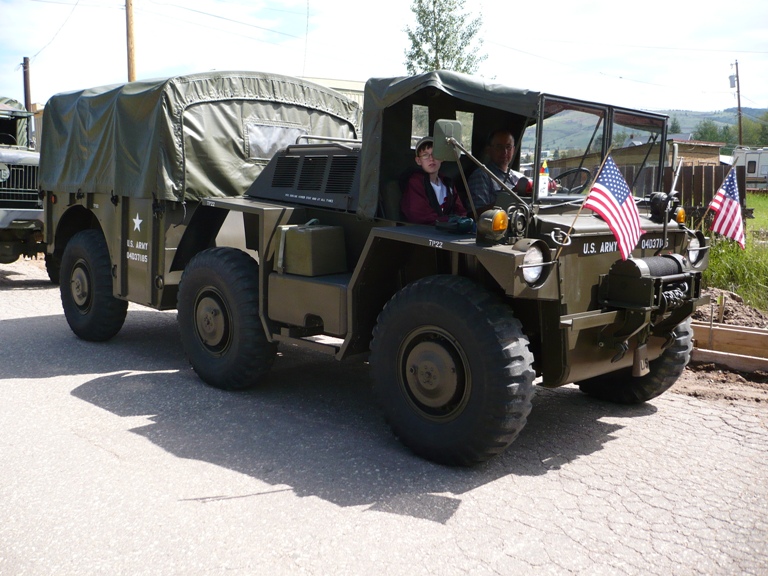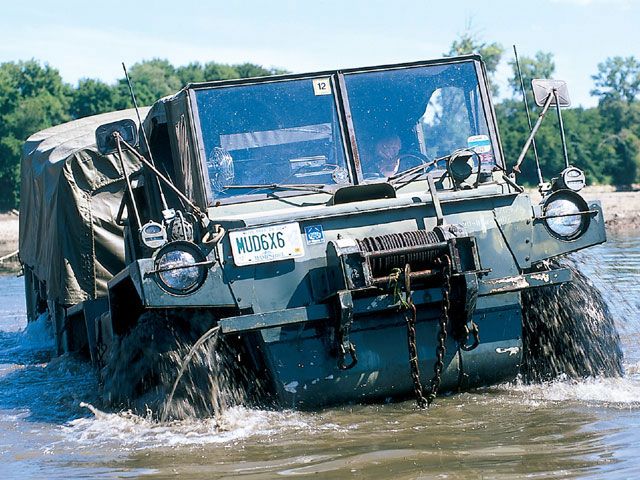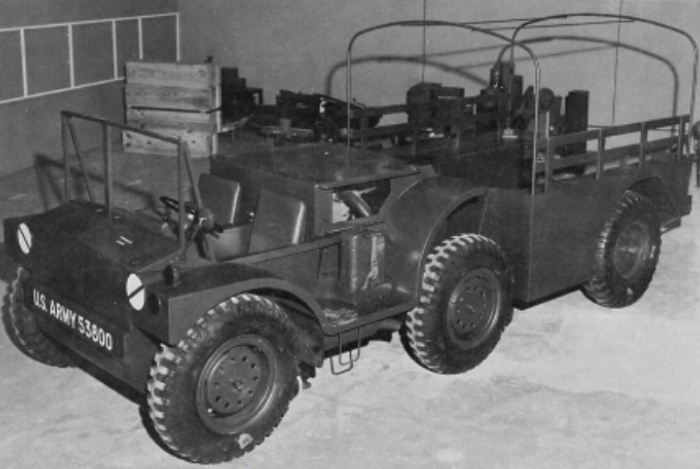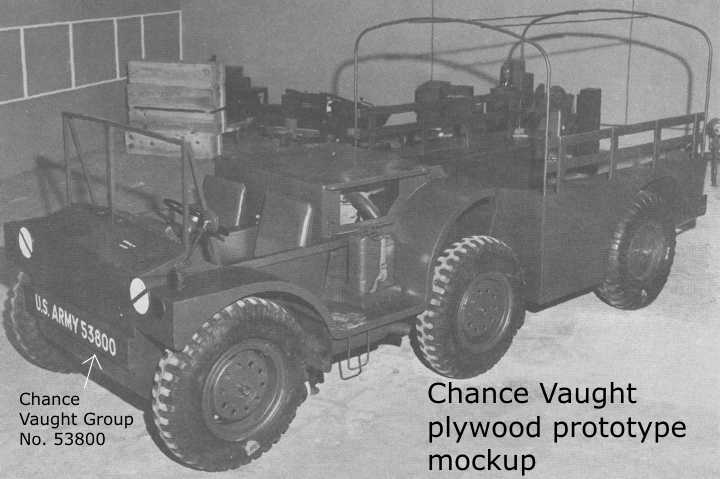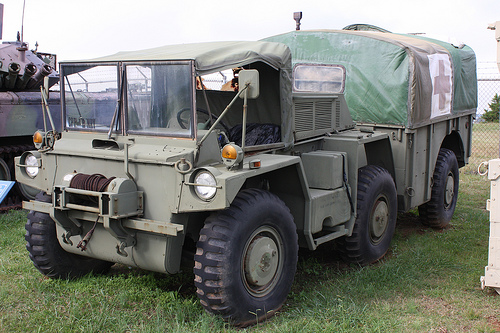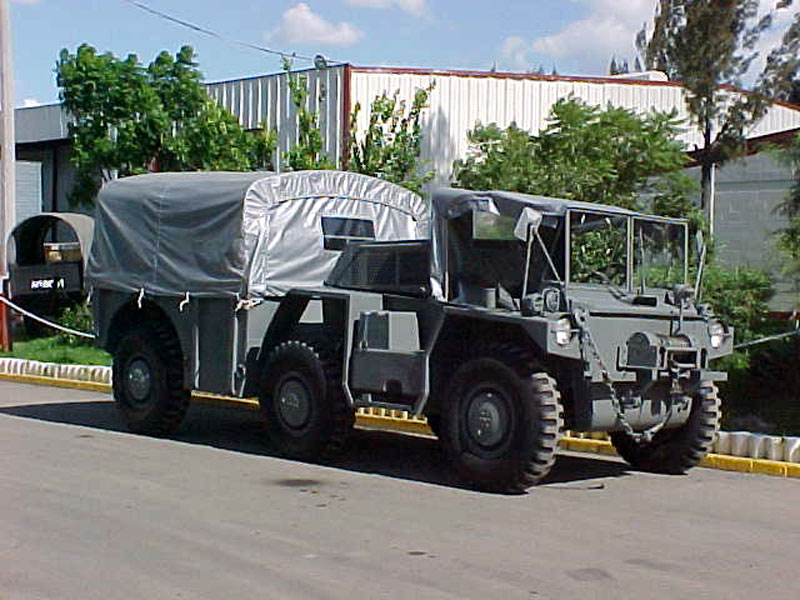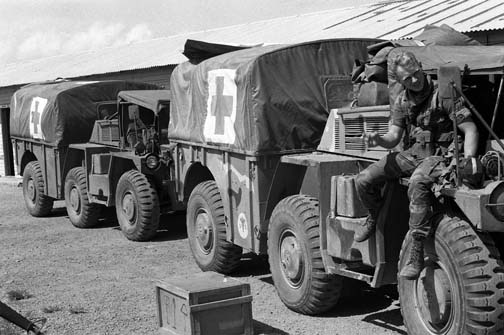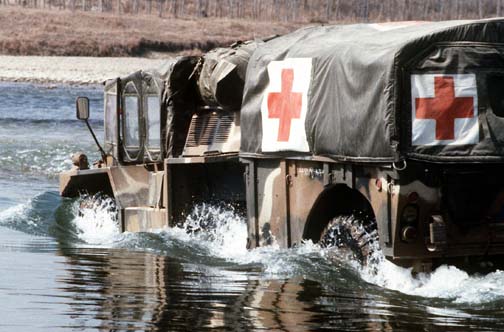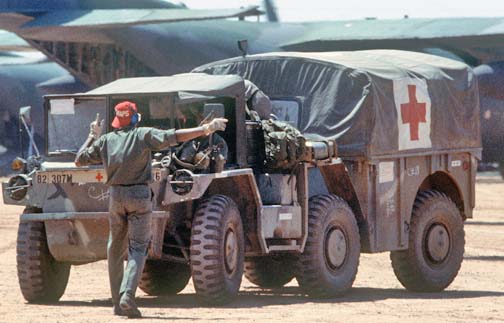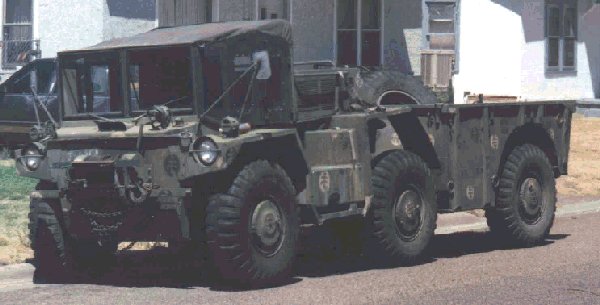 John Colwell Member # 9884

jepcolwell@aol.com



Waxahachie, Texas
Home Jeeps Military Dodges M715
2 1/2 Ton Trucks Dodge Power Wagons